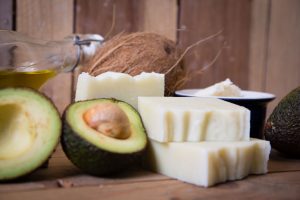 Our Handmade Soap bars are made from an amazing blend of fats and oils. We spent months researching and trying out different combinations, and we've settled on one that we absolutely love for its rich lather, natural scent and moisturising feeling.
Here's what makes our soap bars so special.
Avocado oil is rich in vitamins A, B, D and E. It is also contains lecithin, potassium, protein, beta carotene and amino acids. It is thanks to these beneficial ingredients that it is often thought of as a super regenerative oil, and we know that it transforms an ordinary bar of soap into something really special.
Shea Butter is a skin-loving ingredient that is widely recognised for its moisturising and softening qualities. It is rich in vitamins and essential fatty acids, and helps to enrichen and soften the skin whilst soothing some skin irritations. It was an obvious choice for us when selecting the ideal ingredients for our family soap.
Castor Oil is widely used to treat acne-prone skin, but we've chosen to use it because it is kind to sensitive skin and also helps to create a lovely lather in handmade soap using the cold process method. We noticed the difference straight away when trying out different formulations, and castor oil bars consistently outperform in luxurious lather without adding anything artificial.
Coconut Oil has a fabulous reputation as a "super cleanser," and it is bursting with essential fatty acids, micronutrients and antioxidants. It boosts the moisturising properties of handmade cold process soap, and helps to soften sensitive skin with its regenerative properties. This "superfood" is also super kind to skin which is why it is a must in our handmade soap bars.
Responsibly Sourced Palm Oil is particularly high in naturally-occurring vitamin E which is a powerful antioxidant and is widely used in anti-ageing products. It is also valued for its ability to remove dirt from hair and skin, and also to help replenish the skin's natural oils. It is an excellent cleansing ingredient and is packed full of benefits, which is why – after much research – we decided that our soap would truly benefit from using responsibly-sourced palm oil. Click here to read our policy about only using responsibly-sourced palm oil in our soap.
Olive Oil is naturally nourishing for the skin and has been used in natural soapmaking for centuries. It has antibacterial properties and is rich in naturally occurring minerals and vitamins. It is said to be anti-ageing because it helps to replenish the oils that our skin loses as we age – no doubt why olive oil soap is such a popular choice in many cosmetics! We love it because it gives a creamy olive colour to our soaps, and its distinctive scent leaves you feeling fresh and clean.