Hey soap lovers! It's so good to see you.
This weekend's announcement is a little scary for family-run businesses like ours, especially as it means we have to close our retail shop to the public. But, as a manufacturer and online retailer, we're able to carry on making and wrapping up soap for you during lockdown and our online shop will be OPEN AS NORMAL for the whole period. We're also going to be working hard to upload the gift sets that we had planned for the festive season, which can be posted directly to the recipient if you are organised like that – or just to you for some much-needed self-care during this difficult time! You can order online at any time, and we'll be sticking to our normal posting schedule of Mondays, Wednesdays and Fridays.
ARE YOU LOCAL? We will be delivering soaps in the Southend-on-Sea area with contactless delivery once a week. Drop us a message via etsy to arrange delivery to you.
ORDERING ONLINE? To help during this difficult time, we've decided to cover the costs of shipping during lockdown when you order £25 or more. Use the code SOAPPLEASE at checkout to get FREE UK delivery. (Order online via Etsy HERE).
The postal service was only minorly affected during the last lockdown, so we have high hopes that we'll get through this and you'll all get your favourite handmade soaps in a timely manner.
Thanks so much for your continued support you awesome bunch, it means the world to us. We will continue to work hard to get your soaps made, cut, cured and wrapped up – all by hand, with love.
Workshops: postponed
We've had to postpone our November workshops until December – sorry folks! If you've already got tickets, your booking will be transferred. You also have the option for a refund, and we'll be getting in touch with you directly to give you the options for dates etc.
Our Christmas Soap Making workshop will now be on the 13th of December. You can view it on Eventbrite here
Our Natural Wreath Making workshops are going ahead on the 5th and 12th of December. You can view it on Eventbrite here.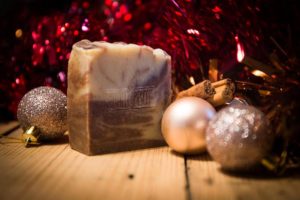 Festive Soap now in stock!
Our seasonal favourite Cinnamon Swirl soap is BACK! This limited edition soap is only available during the festive season, and we only make a few batches so once they're sold out – they're gone! These swirly soaps are scented with cinnamon and swirled with ground raw cinnamon which is an excellent all-over exfoliant.
Thank you again for all of your support during these trying times! Don't forget that you can get free UK delivery with the code SOAPPLEASE on orders £25+, and keep an eye out for new gift sets and lovely goodies in our Etsy shop as we update every week.
Stacey x