We are so excited to announce that our range of PURE castile bar soaps is finally ready! It's taken us a while to get to this point. We started developing them six months ago and had so many obstacles to overcome – but now we're as pleased with punch with the results! Yay new soaps, and yay for practical, household applications that support the zero waste home movement too.
We also felt really strongly about producing a palm-free soap for those of us who want to use all-natural homemade soap for something other than treating troubled, eczema-prone skin (which our main range of soap is catered towards). Castile soap is perfect for this: it has a myriad different uses in the home and can also be used as a shower/bath wash. It's also gentle enough to use on your face or for delicate skin. So we ummed and ahhed and took on board all of the amazing feedback from our regular customers and came up with a selection of soaps that we hope you love as much as we do!
Castile soaps are a simply brilliant way to reduce waste as they provide a single, concentrated solution for a number of different applications.
Use it in the bath or shower as you would your favourite soap
Use a bar of soap to scrub your dishes when doing hand washing
Grate it into a jar, and use a pinch in a sink of hot water to do your dishes/ scrub your veggies clean /soak your clothes for washing
Use a bar to scrub at difficult stains (or scrub children who have covered themselves in paint – ask me how I know)
Use a pinch in a tub of hot water to wash your dog
Use a diluted solution as a gentle plant spray for bugs
Grate it into hot water to create a solution that can be used in a spray bottle as a household cleanser – on surfaces, countertops, cupboard doors, windows, tables, floors and more
Grate it into hot water to create a liquid hand soap that you can use in a pump bottle
Grate it into a jar or tin to travel with – use a pinch of soap in the shower instead of getting the whole bar wet, use it to clean clothes without having to travel with washing powder
Traditionally, castile soap is made with olive oil – but today, there are so many companies making 'castile soap' with other olives such as coconut oil, hemp seed oil or palm oil. While we experimented with a lot of different recipes, we decided to create the range using the tried-and-tested method that our grandmothers used: pure olive oil and mineral water. We've brought them up to date with the addition of essential oils, mineral clays and botancials but the basis is the same: plant-based, simple and unfussy.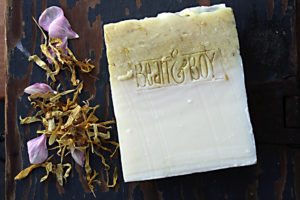 Meet the PURE family (you can also find them HERE on Etsy for more information and more images):
PURE – plain, unscented bar castile soap, ideal for household use for all applications and bath.
FAIR DINKUM – contains activated charcoal and tea tree essential oil which is said to be antibacterial. Particularly good for use surface cleaning and for dishes.
SWEET DREAMS – contains lavender, oats and chamomile. Ideal for bath time/ night time.
FIELD NOTES – contains a blend of floral essential oils and calendula petals. Ideal for situations where scrubbing is necessary – such as removing stains or exfoliating.
GOOD MORNING SUNSHINE – citrus scented and coloured with turmeric powder, this is a great bar for starting the day right.
WILD WOODS – warm and woodsy, this is a great "bloke soap", with a warm cedarwood and patchouli blend that is great for surface cleansing (countertops, tiles, etc.)
LEMON SHERBET – bright and uplifting lemongrass, ideal for a fresh lemon scent in cleaning, as well as for summer use as lemongrass is said to repel mosquitoes!
RUBY TUESDAY- warming rose and grapefruit essential oils with pink clay, great for bath time or for a bright, feminine scent in the home
SWEET MINT – a combination of mints and green clay to create a clean, fresh scent – ideal for household applications as mint essential oils are said to be antibacterial and antifungal as well.
In the coming weeks we'll show you more ways that you can use your castile bar soap at home. Whether you'd like to use it to wash dishes, clean veggies, scrub your pooch or help remove stains from clothes – we've got you covered.
Our amazing stockist THE KIND STORE wrote a fab blog post about castile soaps and how to use them (HERE) – including instructions on how to make your own liquid hand soap from your favourite bar of soap, some water and a squeezy bottle.
Happy handwashing!
Stacey + the Bean and Boy team