Today I'm on WASH FOUR of my transition period – the period of adjustment when you switch from chemical-rich shampoos that come in plastic bottles to natural chemical-free soap bars, wrapped in paper or otherwise.
I thought it would be easy. I wash my kids' hair using shampoo soap and I've done so ever since the beginning – their hair is gorgeous, shiny, wonderful and look like they could be shampoo supermodels. Why would mine be any different?
Maybe because I've been slathering my poor hair in chemical-laden goo for the past 34 years
Maybe because chemicals like sodium lauryl sulphate have been seeping into my scalp for 9,000 washes (give or take)
Maybe because my hair needs time to detox from being smothered (literally) and stripped of all if its natural oils and nutrients – it needs time to realise it doesn't need to work that hard. (Oh poor hair, I'm so sorry!)
It has gone a little bit like this:
Wash 1: YUCK. Ew. What has happened to my hair?! Straight into a bun hidden away from human view! (compulsive reading followed and subsequent embarrassment that this was my hair's natural response to a chemical detox)
Wash 2: Noticeably better, it felt great when wet and a bit greasy when dry – but not hideous. Needs another wash.
Wash 3: Still some residual feeling of waxiness. I might be able to cope without washing my hair tonight.
Wash 4: Okay, we're getting there. Still feels a bit waxy, but a thousand times better than wash 1, and I think that the end is probably very near!
This is THE TRANSITION PERIOD. If you don't have a transition period when you switch to solid shampoo soap, that's because your soap probably contains a lot of chemicals, or heavily chemically-modified natural ingredients. OR you have awesome hair that totally digs the groovy vibes you get from natural soap. Those are your two options. The latter is less likely, dudes.
What does it feel like? How long will it last? What can I do about it?  These are the most frequently asked questions I get. There are a couple of reactions that your hair might have to solid shampoo bars, depending on the type of hair you normally have. It might feel super waxy (like mine did on wash 1), greasy, super dry, or a combination of all of these.
You've got to give your hair some room to breathe and let it work all of those chemicals out. After a few washes, research shows that you'll adjust. It'll be like magic. Your hair will stop producing all of its natural oils (you know, all those natural oils and nutrients it pumps out to cope with the chemical onslaught of washing with chemical-laden shampoo) and suddenly it will reach a state of equilibrium. You'll have natural, normal, healthy hair.
Here's what you can do in the meantime:
Another reason why your hair might be feeling a bit rubbish during this initial phase is that you're not completely washing all of the soap out of your hair. I know it seems crazy, but solid shampoo works totally different to shampoo liquid (who would have thought it?!). First of all, natural solid shampoo lacks the sulphates you're used to that give it that big bubbly lather. Our soap lathers up really well in your hands and you can apply it as you would shampoo, but you need to give it an extra rinse to make sure it's all out.
Another great way to make sure that you've got rid of all the soapy suds is to use an apple cider vinegar rinse. Because soap is naturally an alkali, balancing it with an apple cider vinegar rinse will not only make sure that the soap molecules are rinsed out, but will also give your hair a bit of balancing, nourishing follicle love.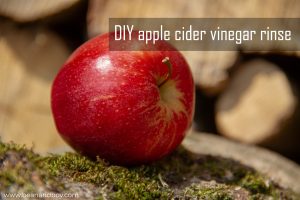 Here's how I make my APPLE CIDER VINEGAR HAIR RINSE:
1/2 T to 4T of apple cider vinegar (ACV)
a cup of distilled water
repurposed squeezy bottle
Mix the two liquids together in the bottle. Voila! Start off with less ACV and work your way up to more to find a ratio that suits your hair. Dry hair likes less ACV, greasy or oily hair likes more. After washing your hair with your solid shampoo bar, apply your ACV rinse like you would a conditioner: work it into the hair by spraying, spritzing, rubbing, rinsing, pouring (basically whatever method suits you best) and let it sit for a few minutes. Then rinse it out, or leave it in if you want tangle-free hair! It will smell like vinegar when it's wet but the smell goes – I promise.
Are you using the right soap?
There are loads of different solid shampoo bars for different hair types, and the type of soap you use should depend on how your hair reacts. If you're using the wrong type of soap, it's not going to be fun for anyone. Our avocado and shea butter soap is a brilliant shampoo bar for most hair types – it's moisturising but not overly oily, it's scent-free so it's ideal for sensitive skin, and it has been certified as safe for newborns. It has the right balance of avocado oil for nourishment, castor oil for lathering, and shea butter for smoothing, nutrient-rich moisture.
All of our soaps are based on a solid shampoo bar recipe, so they're great for lathering up – but maybe you have oily hair and need a bit of added clay to help combat free-floating oils? Our rose geraniuim and pink clay soap would be ideal, or our tea tree and green clay soap.  We've also been experimenting with a cider vinegar rinse soap (I know, the science is exciting) and have sent it off for certification. It should be back in a couple of weeks and then we'll be able to offer a whole new level of solid shampoo use!
What now?
The transition period isn't scary. It lasts anywhere from a couple of washes to a month and once it's done, you won't want to go back. Just think of all of those yucky factory-manufactured bad boys you're getting rid of. If you introduce an apple cider vinegar rinse successfully into your routine you can start thinking about reducing other chemical-based products (all which come in single-use plastic bottles too). How about an apple cider vinegar toner instead of your chemical-rich facial concoctions? How about making your own apple cider vinegar too? The possibilities are endless!
In the coming weeks I'll be sharing loads of DIY recipes, inspiration and much-needed honest, real information for you to make an informed decision about your natural routines really easily. I'm going to be working with some amazingly talented people who are the best at what they do to create an information hub to inspire and inform. Together, we can work towards living simply, living naturally, living better. Join me – and see what changes you can make in your everyday.