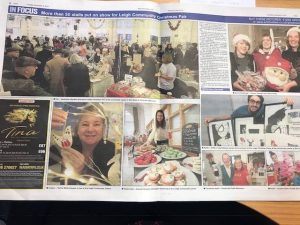 We've been so spoilt this past month, appearing in The Green Parent, Juno Magazine, and our local paper the Southend Echo too. We popped up this week in the paper again – that's us in the middle of the large top image selling our all-natural handmade soaps at the Leigh Community Centre's Christmas Fayre which was a great success!
A huge thank you to everyone who supports us – online, offline, in person, at events, through sharing, and of course by using our soap. We are so grateful that you've helped take us on this journey. What started out as a way to combat eczema in our own home has become an award-winning enterprise, and we're so honoured that Bean & Boy is reaching far and wide. On an average week I post off parcels every day to the UK and America, and even sometimes to Europe too – Portugal, Germany, Slovakia. It's such an adventure!
I still make everything by hand, although our processes have improved a bit and we now buy soapmaking ingredients in much larger quantities. We've started workshops, extended our range with brand new soaps, and have found someone who makes the most wonderful high-ridged soap dishes to add to our range. We have been speaking with local artisans to make custom soap dishes too (reclaimed wood and ceramic!) and we are also now in a number of shops across the UK. It's all systems go for 2018. We have so many exciting updates to share with you – watch this space! And remember to join in on the conversation on Facebook.