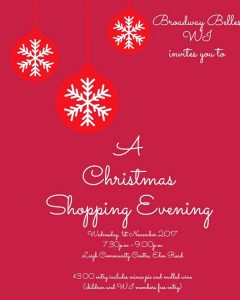 We're attending the Broadway Belles Women's Institute Shopping Event next Wednesday (1 November) from 7.30 until 9pm at the Leigh Community Centre. Entrance is free for members and children but £3 for visitors (all are welcome!)
It's our first festive event of the season and we can't wait. It's time for mince pies and mulled wines hurray! We'll be there with our all-natural handmade soaps, our handmade facecloths (made from recycled and pure cotton) and our brand new soap savers as well as a few extra goodies.
Like our page on Facebook for more information on this event and others https://www.facebook.com/beanandboy/ – we've been booked out for every weekend for the rest of the year so it's going to be a busy few weeks ahead!