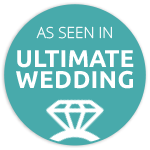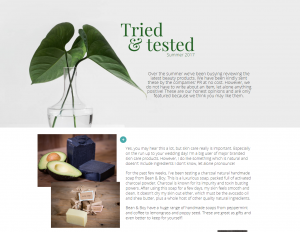 We've been featured in ULTIMATE WEDDING. This UK and US magazine looks at the best in wedding trends, real wedding stories, and related products.
Our baby soap is an extremely popular wedding favour – especially as these mini bars can be completely customised and packaged to suit your special day on request – so it was no surprised that these lovely bars took centre stage in UW alongside our famous Charcoal Soap. The reviewers have marked our soap as "tried and tested," and have recommended it for pre-wedding prep and favours too! There's a great honest review too, and a lovely peek into the world of gorgeous weddings across the globe. Click here to see more.
If you're after something special for your big day or event, just get in touch. Our soaps make brilliant favours, and we offer competitive pricing on large orders. We work with you to come up with a soap favour that suits your style and event, and we can make our 40g mini bars in any one of our best-selling "flavours" or something completely bespoke for your day.
We are also really excited to be able to call on Clare from FrouFrouDays, a fabulous stylist and party planner extraordinaire, who would be happy to work on the packaging and presentation of your party soaps for your special event to make it even more memorable.