We usually attend the Leigh-on-Sea Farmer's Market each month but unfortunately won't be able to make it this Friday. Both the Bean and the Boy are with me for school holidays and aren't all that impressed by the prospect of going with mama to market for hours on end.
The market will still be running as usual and there are some lovely stalls to see – Urban Farmers' Southend-grown mushrooms, Sarah Green Organics who have the most incredible fresh produce, South East Essex Organic Growers who are on-hand with home-grown plants and excellent advice… not to mention the crafty pop up which will be there for the first time and a host of other great traders.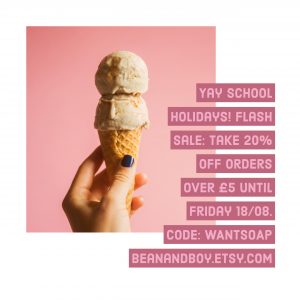 As a little "sorry" and an equally big "hurray", we will be offering 20% off all orders over £5.00 placed this week until Friday to make up for not being there in person. Remember, if you're local to Southend you can still get free delivery or collection. Everywhere else (UK) is £2.90 for Royal Mail second class delivery, and international shipping options are available in our Etsy store when you check out. Use code WANTSOAP at checkout to claim yours!
Thank you so much for your understanding, and happy holidays to all the parents out there!