We had an amazing day out at Village Green, although it has taken me a whole week just to recover and catch up. There were tens of thousands of people there – the local newspaper reported 16,500 music lovers attended this year's event – and many of them came to say hello to us and our fellow artisans in the March of the Makers tent.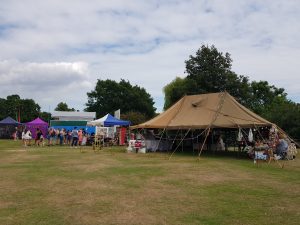 We met some amazing people, talented artists, and loads of fantastic soap lovers who helped pass the day really quickly. Maybe it was the summer sun, or the many passing beer-drinkers, or just the fun of being in a little army tent in the middle of the festival field … but we had a jolly fun time.
HUGE thanks to everyone who came to support us, and especially to those who came to tell us why they love natural soap and what a huge difference it has made to their families. That was our HIGHLIGHT of the day!