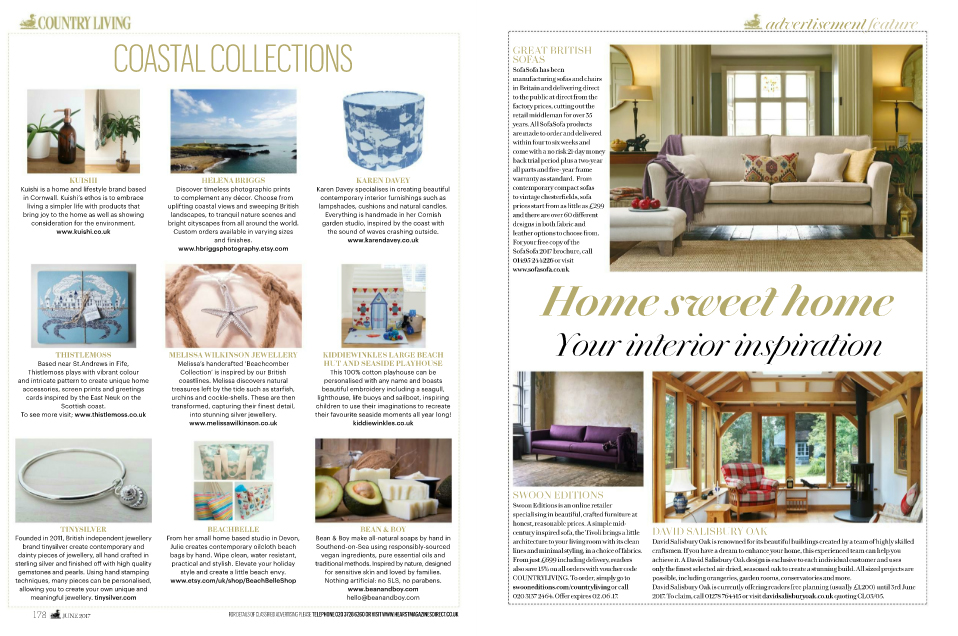 Probably the most exciting thing since sliced bread. And grapefruit marmalade. And bouncy castles.
Yes – that's us, included in the roundup of gorgeous coastal features in Country Living's June 2017 issue. What's coastal about handmade soap you ask? Simple: we make all of our soaps by hand in beautiful Southend-on-Sea, a stone's throw away from the estuary, bordered by the the blue- and purple-flag beaches that attract thousands of tourists every day. Popular seaside resort, and home to the world's longest pleasure pier.
We're also hard at work in our research kitchen, cooking up fabulous combination of seaweed and seasalt for new soaps coming later this year. There might even be something amazing to be made with Dead Sea Mud which is an amazing skincare ingredient that is highly prized and sought after.
"It is becoming more evident that what we put on our skin, is as important as what we put in our mouths. As a result consumers have never been savvier about what goes in to the products they use on their family." – Debra Meaden
And while we're at it, we're also planning on opening up a seaside soap studio Soap-on-Sea to offer workshops and classes to everyone who wants to learn how to make completely natural soap for themselves. It's our mission to change the way that people use soap and to create greater awareness around some of the ingredients that people put on their skin.
It's with such appreciation and soapy love that we thank you all for your support and kind reviews. We couldn't be here without you – dear soap lovers – and your determination to see us nationwide. You're all pretty amazing. Right – we're off to celebrate. What a week!