It's so wonderful when we hear back from you about what you love, what you want, and your "Bean & Boy Experience". Sometimes we get to speak to customers before they've even tried our soap – and I absolutely loved this request we got last week,
"Send me your favourite soap. And by that I mean the one that makes you the happiest when you make it."
What an amazing request. Would it be simple soap? It's the first soap I absolutely fell in love with, and the soap that inspires all of our recipes. Would it be grapefruit and calendula? It has such an uplifting and energising smell, we call it "happy soap" at home.
It got me thinking about all of our soaps, and the soapmaking process. We make all of our soaps by hand using the traditional cold process method. It's a slow method, but we know that all good things are worth the wait. All of our ingredients react differently, and you get to know the different characteristics of each one.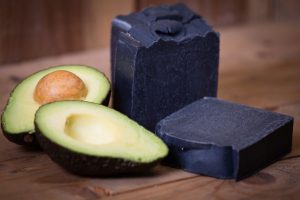 And that's when I knew – charcoal soap. This is the one soap that fills me with anticipation and excitement every time I mix it. It's like a combination of traditional skills, alchemy and a little bit of magic.
Charcoal reacts in a completely unexpected manner every time you use it – it grows, expands, and occasionally volcanoes! After pouring, we wrap our soaps up in layers of blankets to "sleep" overnight and set properly. Sometimes, charcoal soap grows out of the molds overnight, and then leaves a rather marvelous crack down the length of the large soap bar as it cools and contracts. I think it's one of the most beautiful characteristics, and only visible when it's handmade in small batches like this.
It fills me with such delight when it turns out just right (and we do test each and every batch before we wrap it!), and of course charcoal cleans so magnificently that it seems like a complete contradiction… charcoal black soap that cleans and detoxifies? Yes please!