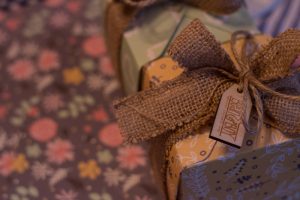 We're really proud of our new ⭐️LIMITED EDITION⭐️ gift boxes. Each box contains a handmade face cloth, made from recycled cotton (or pure cotton for those with sensitive skin) and your choice of two of our 110g handmade soaps.
They make the PERFECT gift for Mothers' Day, and for other occasions too. We will be posting them online very soon (check our etsy shop out at www.beanandboy.etsy.com) or you can contact us directly if you want something special.
Here's what one customer had to say about her two gorgeous gifts, all packaged up and received for Mother's Day:
Have ordered this as a gift which came alongside another soap and a beautiful handmade face cloth! Absolutely amazing smell coming from the box! The box is so quirky and the attention to detail this lady gives, alongside fantastic customer service, is second to none! Amazing ⭐️⭐️⭐️⭐️⭐️
Each gift box is made from limited edition prints, lined with tissue paper, and is sealed with recycled hessian ribbon, Nutscene twine and a lasercut Bean & Boy wooden tag. All natural, all good!