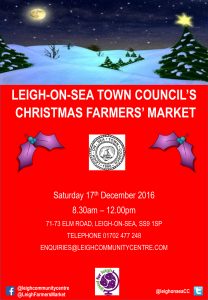 We're ending the festive season on a bang with the lovely Leigh-on-Sea Farmer's Market which has become our local haunt. The farmer's market is on a Saturday (tomorrow) for a change to make this an extra special day of Christmas shopping – stocking up on goodies from local artisans, crafters and growers.
We'll be seeing some old friends at the market and some new ones too as a lot of new crafters have signed up to the event. We're looking forward to seeing Blaze's Tasty Treats (handmade doggy treats for your pooch), Flowers & Home (who have used our gorgeous Gardener's Soap – Peppermint & Coffee Soap – in their gardener's hampers) and Sarah Green Organics (they do the most exquisite locally-grown veggies). We'll be sure to take lots of photos to share with you! We hope to see you there, from 8.30am until midday.
Until then. Rub-a-dub-dub!