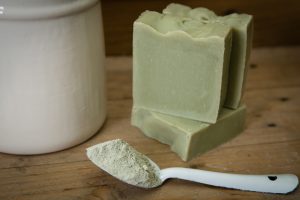 Our Tea Tree and Green Clay Soap is now live on our website and on Etsy! It was one of our original soap varieties and has been incredibly popular at the markets.
We love Australian Tea Tree Oil; it is widely used to help alleviate headaches, congestion and other symptoms associated with colds and 'flu. It is also used as a beauty product to combat acne and tired skin which makes it an excellent partner to the French Green Clay we've included to boost the green colour and make this a super cleansing bar!
As with all of our soaps, we only use completely natural ingredients so there's nothing artificial in these bars.
Here's what our customers have to say about the Tea Tree and Green Clay Soap:
I have never been a fan of soaps. In the past I've found they dried my skin out and I didn't like the feel of them. Then I tried the soap from Bean & Boy and my mind has been changed. I love their soaps and the feeling on my skin. My favourite is their tea tree soap. My face feels so clean and soft after using it. I have been converted to a soap lover. – Vicky K
We have two batches curing on the racks, with four more coming this week. It's going to be a busy time in the Bean and Boy soap kitchen!